If you're looking for more information about Leann Sweeney's two cozy mystery series–The Yellow Rose Mysteries or Cats in Trouble–you're definitely in the right place. Click on through to learn more about the books and their author, or connect with Leann via the contact options.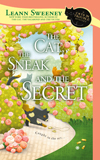 Leann's August 4 '15 release: THE CAT, THE SNEAK, AND THE SECRET
Jillian Hart and Tom are finally tying the knot, but first they need to make sure Tom's stepson, Finn, is as comfortable as possible in the lake house they will all call home. So when it becomes clear that Finn has fallen for a pretty cat from the Mercy Animal Sanctuary, Jillian and Tom readily agree to make room for one more—even though the tortoiseshell kitty is a notorious kleptomaniac.
So far, the cat has sneaked out of the adoption center time after time, bringing back trinkets, shoelaces, and socks. But when she brings back an antique locket, Finn enlists Tom's and Jillian's sleuthing skills. They hope to return the treasured item to its owner, but their search for answers is sidetracked when a body is found. Still, their sneaky cat's find may just lead them to a killer.…