If you're looking for more information about Leann Sweeney's two cozy mystery series–The Yellow Rose Mysteries or Cats in Trouble–you're definitely in the right place. Click on through to learn more about the books and their author, or connect with Leann via the contact options.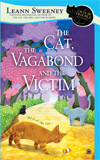 Leann's August 5 '14 release: THE CAT, THE VAGABOND, AND THE VICTIM
When Clyde the cat travels two hundred miles back home only to find his former owner dead, the story makes national news. While everyone seems eager to tell Clyde's incredible tale, someone needs to step up to care for him. Because the media attention is creating chaos at the local shelter, cat quilter Jillian Hart agrees to foster the loyal orange tabby, hoping his location is kept secret.
But while the media circus around Clyde continues, Jillian learns the real story behind his owner's death—he was murdered. Why would an eldery man already dying from a serious illness become a murder victim? As the local police search for an answer, Clyde makes another escape. Jillian is drawn into the case when she finds Clyde has returned to his home again—and he's found another body. When the motive behind these murders is finally revealed, Jillian understands Clyde is in danger of becoming the next victim, and she must help find the killer before the claws really come out.…