Leann Sweeney was born and raised in Niagara Falls and educated at St. Joseph's Hospital and Lemoyne College in Syracuse, NY. She also has a degree from the University of Houston in behavioral science and worked for many years in psychiatry and as a school nurse; she now writes full time.

She began crafting fiction in 1980, fulfilling her lifelong dream. After perfecting her skills with classes and a small fortune in writing books, she joined MWA and Sisters in Crime. Now she's the creator of two NAL/Obsidian mystery series: The Yellow Rose Mysteries and the Cats in Trouble Mysteries. The Cat, The Quilt and The Corpse, first in the Cats in Trouble Mysteries was the #1 bestseller on the Independent Mystery Bookseller's List when it debuted and made several top twenty lists for 2009 at bookstores across the country. Since then, The Cat, The Lady and The Liar and The Cat, The Wife and The Weapon climbed all the way to the NY Times bestseller list for mass market paperbacks.
Leann is married with two fabulous grown children, a wonderful son-in-law and a beautiful daughter-in-law–not to mention three amazing granddaughters: Maddison Grace (Maddie), Morgan Elizabeth and Meika Elise. She lived in Texas from 1974 to 2012 and now lives in South Carolina with husband Mike, her two cats Wexford and Marlowe, and Rosie–the smart, retrieving, golf-ball chasing, busy-busy-busy mini-labradoodle.

Leann's Cats:

We lost my sweet Marlowe in November (He was ill when I got him). My newest baby, Lynley, is a rescue tuxedo kitty. He is hard to photograph right now as he is either running or sleeping!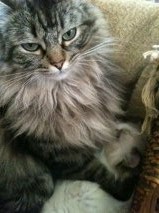 Wexford is a big, silver-tabby ragdoll. He is two-years-old, loves his servant Leann and is on the shy side.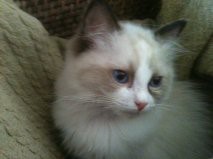 Marlowe is a bicolor seal-point ragdoll, born in October 2012. He arrived in Leann's home very sick and she has spent much time and energy nursing him back to health. The battle isn't over, but he is a sweet, outgoing guy who has brought Wexford out of his shell.
The Cats in Trouble Cast–all Hurricane Katrina rescues:
Merlot is a red tabby Maine coon cat who weighs almost twenty pounds: Ninja protector cat!
Syrah is a sorrel (with chocolate ticking) Abyssinian: Jillian Hart's top cat–quiet, smart, and can even open doors.
Chablis is a sable point Himalayan with crystal blue eyes: Loving and a little clueless, but a great mouser; always wants to be on Jillian's lap.